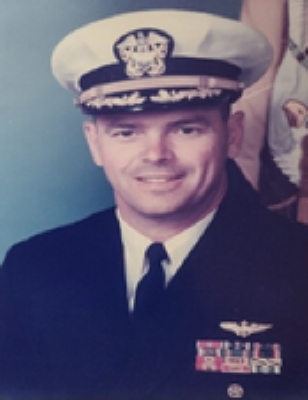 Richard L. Kiehl, Captain, USN (Ret.)
"Dick"
It is with great sadness, but immense pride that we announce the passing of the Kiehl Family Patriarch, Dick Kiehl on December 31, 2020. A decorated Navy veteran and distinguished combat pilot, Dad was a patriot to his country and a loving husband, father, brother, grandfather and great-grandfather to his family. To his many friends, he was always quick with a joke, a smile and a cold beer.
Born January 17, 1933 to Lawrence and Amanda Kiehl in Libertyville, IL Dad grew up with his younger siblings, David and Mary Ann. It was in these early years that he discovered the passion of his life—Golf. His favorite story was telling those who understood, of his opportunity to caddy for the golfing legend—Babe Zaharias.
Following the family move to Missoula, Montana in the early '50's Dad attended 'Montana State University' where he studied Forestry, played football for the 'Griz' and met the love of his life—Sandra Karin Cooney. Soon realizing a career in Forestry wasn't his calling, Dad left MSU and enlisted in the Navy as a navy c adet or 'NavCad.' With dreams of becoming a carrier pilot Dad earned his "Wings of Gold" in August 1955 and was commissioned as an 'Ensign.'
In June, 1956 Dad and Mom married and began a journey together that would last 64 years; 24 years wearing the uniform with numerous duty assignments and relocations, completing six combat deployments to Vietnam all while raising a family. When all was 'said and done' Dad retired as one of the most distinguished and decorated Navy carrier pilots of the Vietnam War, earning four Distinguished Flying Crosses and completing 500 combat missions.
With the war and the Navy in the rearview mirror, Dad couldn't put away his uniform just yet. He volunteered to instruct young men and women in naval science through the Navy Junior Reserve Officer Training Program at Billings Senior High School, in Billings, Montana. For almost 10 years, Dad taught and mentored at Senior with a professionalism and passion for the military that has left a lasting impression with all his former students.
The many following years spent in retirement were very good for Dad. He travelled the country and the world with Mom. They were inseparable. Holland Lake was their sanctuary. The golf course was Dad's therapy. It was indeed, a life truly well lived. Dad, you will forever be remembered as the humble, kind and generous man you were. We take comfort in knowing that you and Mom are together once again.
All our love… David, Tami, Dana, Brittany, Geoff, Jeff, Tessa and Corbin
A memorial service with full military honors is planned in June at the Yellowstone National Cemetery in Laurel, Montana.
To send flowers to the family or plant a tree in memory of Richard Kiehl please visit our Tribute Store.